Newsletter
The veterinarians and staff at the Town & Country Animal Hospital are pleased to provide you with an online newsletter. This fun and fact-filled newsletter is updated on a regular basis.
Included in the newsletter are articles pertaining to pet care, information on our animal hospital, as well as news on the latest trends and discoveries in veterinary medicine.
Please enjoy the newsletter!
Current Newsletter Topics
February is National Pet Dental Health Month
Dental care is vital to your pet's health. If you've already established a dental care program for your pet, you're off to a great start. But if your pet hasn't received a dental exam from your veterinarian, it's time to get started. February is National Pet Dental Health Month, the perfect time to schedule a dental exam for your pet and develop a home dental care regimen for your best friend.
Why is dental care so important for your pet? Periodontal disease is the number one diagnosed problem in pets. By the age of two, more than 80 percent of dogs and 70 percent of cats have periodontal disease in one form or another. The buildup of plaque and tartar on your pet's teeth leads to bacterial infections that can enter the bloodstream and infect other parts of your pet's body. Periodontal disease has been linked to heart attacks, strokes, kidney disease, osteoporosis and other problems.
The good news is that periodontal disease is easily prevented. Regular dental cleanings and a home dental care regimen can eliminate the plaque and tartar that lead to gum disease and oral infections. During a dental cleaning, your veterinarian also performs a complete oral examination of your pet. This includes screening for oral cancer, broken teeth and cavities. Spotting these problems early makes them easier to treat and improves your pet's overall oral health.
Your pet's dental cleaning is more involved than the same process you go through at your dentist's office. Anesthesia is required to keep your pet still and comfortable during the procedure. Because of this, your pet undergoes a thorough physical examination before each dental cleaning. Laboratory blood tests, as well as other diagnostic procedures are also used to screen for potential problems and risks before anesthesia is administered. Using these results, your veterinarian develops a safe anesthetic protocol specifically for your pet.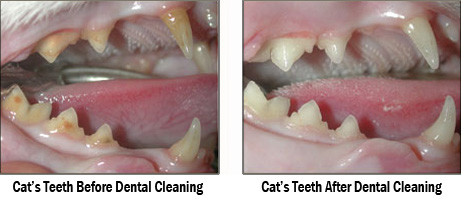 During a dental cleaning, tartar is removed from your pet's teeth with a hand scaler. Next, a periodontal probe is used to check for pockets under the gumline - where periodontal disease and bad breath start. An ultrasonic scaler is used to clean above the gumline and a curette is used to clean the teeth under the gumline and in the crevices. Finally, the teeth are polished and an anti-bacterial solution is applied to help delay future tartar build-up.
Dental care doesn't end in your veterinarian's office. Brushing your pet's teeth at home is an added level of protection against gum disease. In order to be most effective, brushing must be done at least three times a week; however, daily brushing is ideal. Brushing your pet's teeth can be supplemented with antiseptic rinses. Some pet foods and treats are also effective in preventing plaque and tartar buildup. However, there is no substitute for regular brushing and professional dental cleanings.
Call your veterinary hospital to schedule a dental examination and cleaning for your pet today. Your best friend will thank you!
Adopting A Pet
You see a cute tiger-striped kitten with white paws and green eyes, just begging for your attention. Or maybe it's a handsome, tail-wagging Labrador mix who couldn't be more friendly and has those irresistible puppy eyes.
If you're like most of us, falling in love with a pet is easy. And no wonder! Sharing your home with a four-legged friend can be one of life's greatest joys. Dogs, cats and other pets give us unconditional loyalty and acceptance, provide constant companionship, and even help relieve stress after a hard day's work.
Adopting a pet, however, is a big decision. Dogs and cats are living beings who require lots of time, money and commitment - over 15 years' worth in many cases. Pet ownership can be rewarding, but only if you think through your decision before you adopt a companion.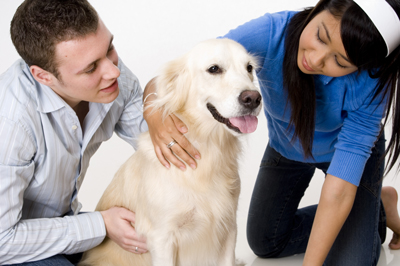 Things to Consider
The fact that you're thinking about adopting a pet from an animal shelter, rescue league or humane society means you're a responsible and caring person. But before you make that final decision to bring a furry friend into your life, take a moment to think about these questions:
•Why do you want a pet?
It's amazing how many people fail to ask themselves this simple question before they get a pet. Adopting a pet just because the kids have been asking for a puppy usually ends up being a big mistake. Don't forget that pets may be with you even after your children leave home.
•Do you have time for a pet?
Dogs, cats and other animal companions cannot be ignored just because you're tired or busy. They require food, water, exercise, care and companionship every day of every year. Many animals have been given up because their owners didn't realize how much time it took to properly care for them.
•Can you afford a pet?
The monetary costs of pet ownership can be quite high. Licenses, training classes, veterinary care, grooming, toys, food, kitty litter and other expenses add up quickly.
•Are you prepared to deal with special problems that only a pet can cause?
Fleas, scratched-up furniture and accidents from animals who aren't yet housetrained are just a few of the inconveniences that you will face.
•Can you have a pet where you live?
Many rental communities don't allow pets, others have restrictions. Make the necessary inquiries before you bring a pet home.
•Is it a good time for you to adopt a pet?
If you're a student, in the military, or travel frequently as part of your work, waiting until you settle down may be the wiser choice.
•Are your living arrangements suitable for the animal you have in mind?
Adopting an energetic dog or a breed that is unsuitable to share your small apartment (a Border collie for example), is not a good idea. Choose an animal who will be comfortable in your surroundings.
•Who will care for your pet if you go on vacation?
You'll need either reliable friends and neighbors, or money to pay for a boarding kennel or pet-sitting service.
•Will you be a responsible pet owner?
Having your pet spayed or neutered, obeying community leash and licensing laws and keeping identification tags on your pets are all part of being a responsible pet owner. Of course, giving your pet love, companionship, exercise, a healthy diet and regular veterinary care are other essentials.
•Are you prepared to keep and care for the pet for his or her entire lifetime?
When you adopt a pet, you are making a commitment to care for the animal for his or her lifetime.
Get an Animal for Life
Sure, it's a long list of questions. But a quick stroll through the animal shelter will help you understand why answering them before you adopt a pet is so important.
Please, think before you adopt. Sharing your life with a companion animal can bring incredible rewards, but only if you're willing to make the necessary commitments of time, money, responsibility and love for the life of the pet.
Much of the information for this article was contributed by the Humane Society of the U.S.
Winter Tips for Pets
It won't be long until the temperature drops off, the sky turns grey and the snow starts to fall. Winter can be a fun time for pets to explore, but as a pet owner, you should keep in mind a few things to make sure they stay healthy and safe during this time of year.
Don't Overestimate the Warmth of Fur
Pets with thicker coats can handle colder temperatures better than shorter-haired animals. But don't think that just because a pet's hair is long that they're completely insulated from the cold. If a pet's coat gets wet, the fur loses its insulating ability. Keep a towel handy to dry off your pet after a romp in the snow, and make sure that they have access to a dry and draft-free shelter on the cold days.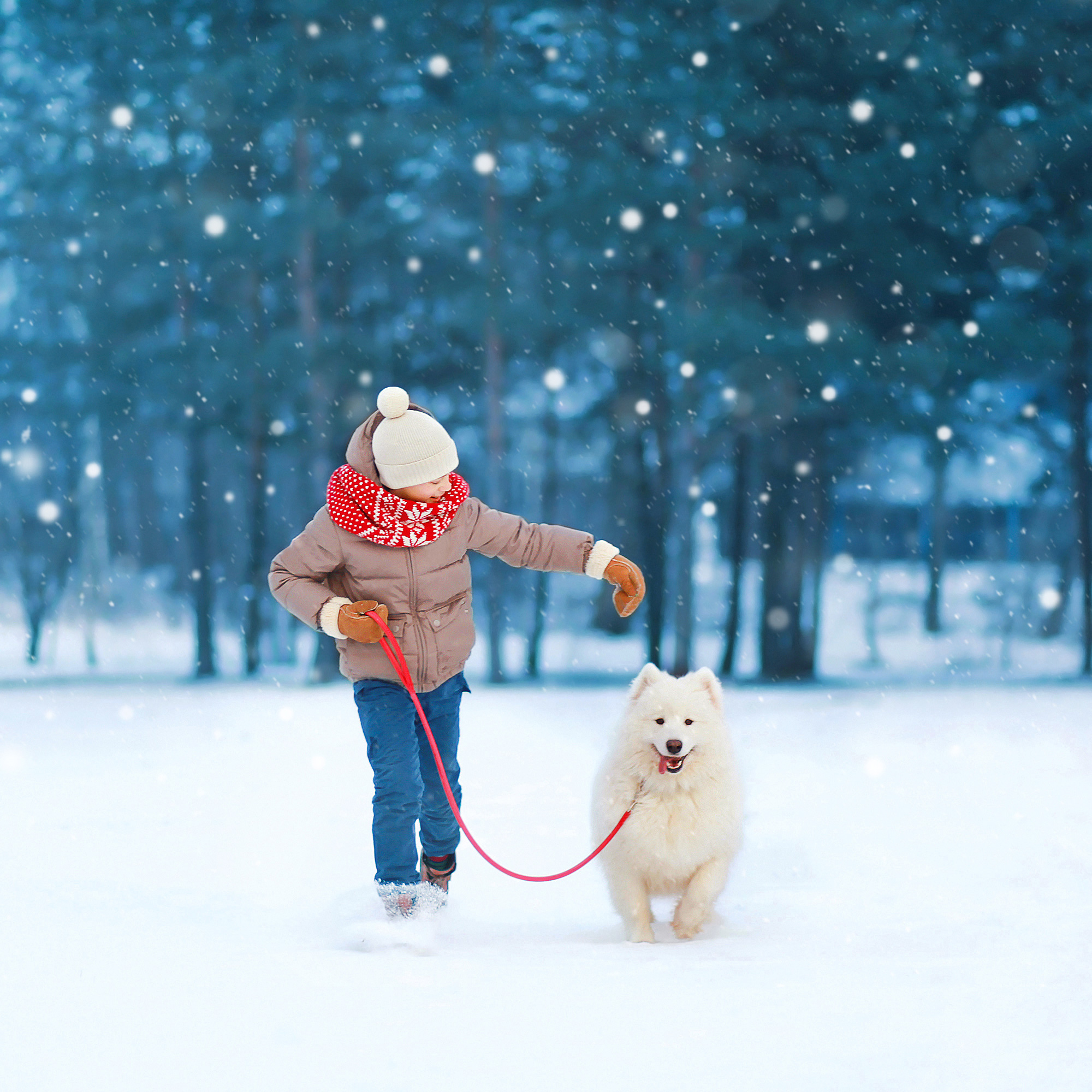 Dressing Your Pet with a Jacket Can Help…to a Degree
Dogs can be very cute dressed in their vest or jacket during the winter months. These fashionable items look great and can help keep your dog warm, but don't consider them to be the equivalent of a parka. Keep a close eye on your dog and never assume because they have on a jacket, they're invincible to the frigid temperatures.
As for your cat: it's hard enough to get them in their travel carrier. Even if you are able to get a jacket or vest on them, it's very likely they're going to spend all their energy trying to get it off. You can probably skip this step.
Protecting your Puppy or Senior Pet Means keeping Them Indoors
As much as your new pet might want to go outside and run around on colder days, it's best to limit their time in the snow or cold. They don't have the fat, metabolism or full coat to handle frigid temperatures as adult pets do.
Your senior pet may have spent winters in the past enjoying the brisk temperatures and playing as the snow falls. But as they age, recognize that they aren't as strong as they once were. This doesn't mean they can't be outside and play, just be conscientious of time and make sure they have plenty of warm blankets and treats when they come indoors.
Did You Know? 8 Veterinary Facts
• Avian Blood Sexing- A blood test can answer the simple question, "Is it a boy or a girl?"
• Dentistry- If your pet has bad breath, drools a lot, paws at his face, or is showing a preference for soft food, he may be experiencing tooth problems.
• Deworming- All kittens and puppies should be routinely dewormed. A negative fecal sample does not necessarily indicate absence of parasites; eggs are shed intermittently.
• Endoscopy- Some foreign bodies, if detected in a timely fashion, may be removed via endoscopy, avoiding possible abdominal surgery.
• Lead/Zinc Testing- Lead and zinc toxicity is very common in birds. Symptoms may include weakness, bloody droppings, regurgitation, seizures or other strange behavior.
• Psittacosis Testing- Birds can harbor a disease called Psittacosis, which is contagious to humans, especially if the person is immunosuppressed.
• Rabbit Spay- If not spayed, 90 percent of female rabbits will develop uterine cancer. We highly recommend spaying your rabbit.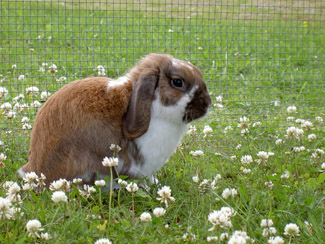 • Urinary Obstructions- Male cats that appear unable to urinate should be seen immediately. They may have a urinary blockage, which if left untreated can be fatal.